offer-popup-title
offer-popup-subtitle
Notify me when is back in stock
Laat je e-mailadres achter en we sturen je een mailtje wanneer dit product weer op voorraad is.

KOTO Washington Elektronisch Dartbord
€59,95
Op voorraad
In winkelwagen
KOTO Washington Elektronisch Dartbord
Merk: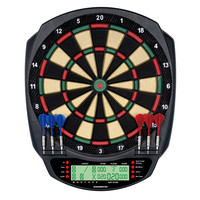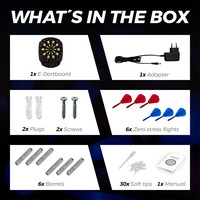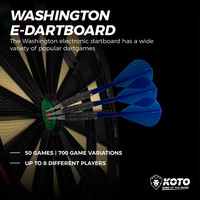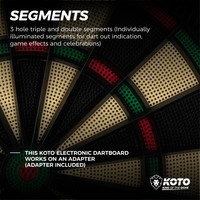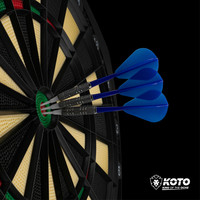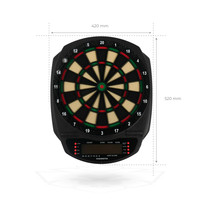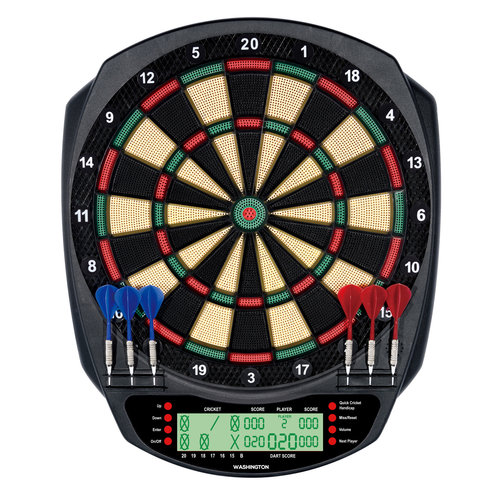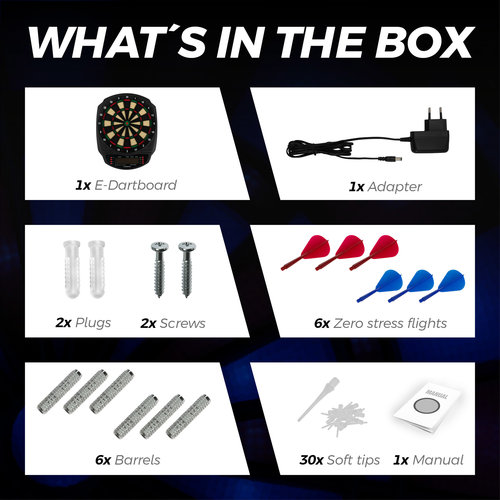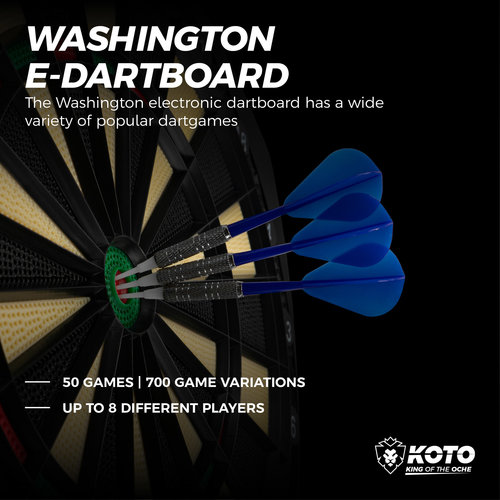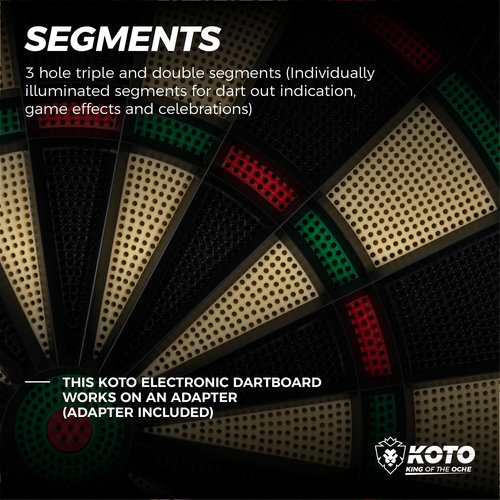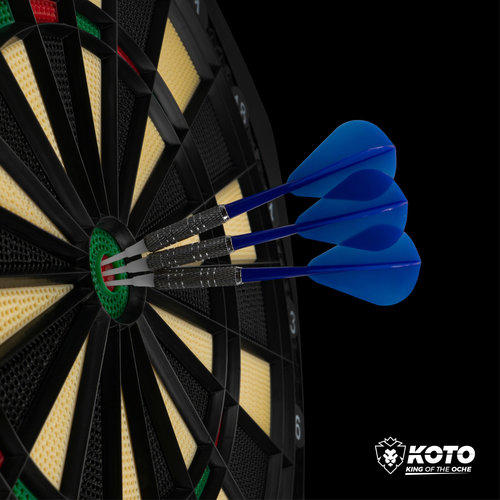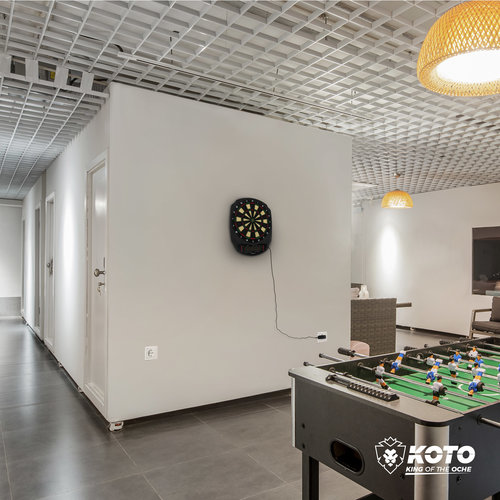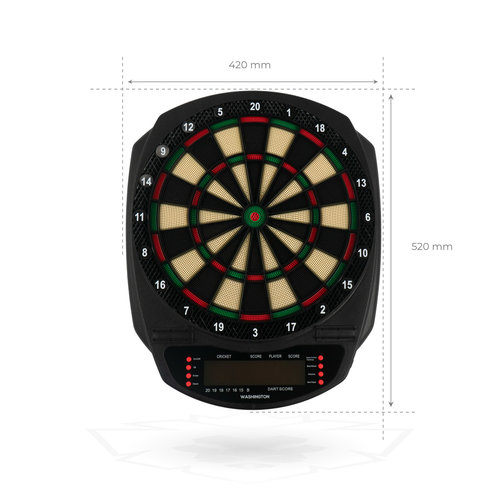 Het KOTO Washington Elektronisch Dartbord beschikt over 50 verschillende spellen waaronder de meest populaire spellen zoals: 301, 501, Cricket, Round the Clock, Overs en Unders. Daarnaast zijn er op deze 50 spellen ook nog 700 variaties te spelen. Al deze spellen en varianten staan beschreven in de bijgeleverde handleiding.
Het Washington Elektronisch dartbord kan door 8 verschillende spelers tegelijk gebruikt worden. Je kunt alleen tegen de computer spelen, tegen elkaar maar je kunt ook in teams van twee, drie of vier spelers de verschillende spellen spelen.
Het KOTO Elektronische Dartbord wordt geleverd inclusief twee sets soft tip dartpijlen (6 stuks). De KOTO Soft Tip dartpijlen bestaan uit soft tips, barrels, shafts en flights. Naast deze twee complete sets softtip dartpijlen ontvang je ook nog 24 extra softtip punten.
Dit Elektronische Dartbord van KOTO werkt op een adapter. Deze adapter wordt standaard meegeleverd met het dartbord. Om stroom te besparen is het dartbord voorzien van een automatische uitschakelmodus. Als het dartbord langer dan 30 minuten niet wordt gebruikt wordt deze automatisch uitgeschakeld.
KOTO Washington Elektronisch Dartbord productinformatie:
Merk

KOTO 

Aantal Spelers

1-8 Spelers

Spelen tegen Computer

Ja

Aantal Spellen

50 Spellen

Aantal Spelvariaties

700 Spelvarianten

Score Display

HD soft-lite LCD Display (Red/Green)

4 Players Score displays, 1 Dart Score display & 2 XO Cricket displays

Geluidseffecten

Ja

Gesproken Scores

Nee

Inclusief Darts

Ja, 6 Stuks

Segmenten

3 hole triple and double segments

Extra Accessoires inbegrepen

Ja, 30 Soft Tips

Stroomvoorziening

Adapter (inbegrepen)

Handleiding

Inbegrepen

Afmetingen

 42x3x52CM

Beschikbare spellen*

Cricket, No Score Cricket, Cut Throat Cricket, Killer Cricket, Scram Cricket, Low Pitch Cricket, English Cricket, Single only Cricket, Doubles only Cricket, Triples only Cricket, Triangle Cricket, Bottom half of the Board, Inner Cricket, 301, 501, 601, 701, 801, 901, 301 League, 501 League, 601 League, 701 League, 801 League, 901 League, Count Up, Round the Clock, Shanghai, Hi-Score, Killer, Shoot Out, 9 Lives, Overs, Unders, Halve-It, Big-6, Forty-One, Bingo, Double Down, 21 Points, Nine Dart Century, Best of Nine, Hound and Hare, Shooting 1, Shooting 2, Shooting 3, Shooting 4, Football, Bowling, Golf.
Het KOTO Washington Elektronisch Dartbord kan alleen gebruikt worden met Soft Tip dartpijlen. 
*In de gebruiksaanwijzing staat hoe je deze spellen speelt.
Voor 22:00 besteld, vandaag verstuurd
Gratis Verzending vanaf €50
Achteraf betalen mogelijk
Retourneren binnen 30 dagen
Je ontvangt
300
bonuspunten