Op deze pagina van Dartshopper.nl staan handige Dart Tips & Tricks voor zowel beginnende als ervaren dartspelers. De Dart Tips & Tricks staan in vraagvorm uitgelegd.
Hoe hoog hangt het dartbord en vanaf welke afstand moet ik gooien?
Een dartbord hangt goed als het midden van de Bulls-eye op 173 cm van de grond hangt. De officiële werpafstand betreft 237 cm. Veel mensen hebben moeite om de oche (werplijn) op de goede afstand af te stellen. Om de oche op de juiste afstand af te stellen kun je dan ook diagonaal meten vanaf de bull. Bij een diagonale meting ligt de oche 293 cm van het midden van de Bulls-eye. Zie de afbeelding ter verduidelijking.
Wat zijn de officiële afmetingen van een wedstrijdbaan?
Grofweg neemt een officiële wedstrijdbaan een ruimte van 4 bij 3 meter in beslag. Ook op een wedstrijdbaan hangt het dartbord op 173 cm en is de werpafstand 237 cm. De oche moet minimaal 61 cm breed zijn en een hoogte bedragen tussen de 3,8 en 6 cm. Een andere belangrijke voorwaarde waar een wedstrijdbaan aan moet voldoen is een goede belichting. Als er pijlen in het bord zitten mag er geen schaduw op het bord vallen.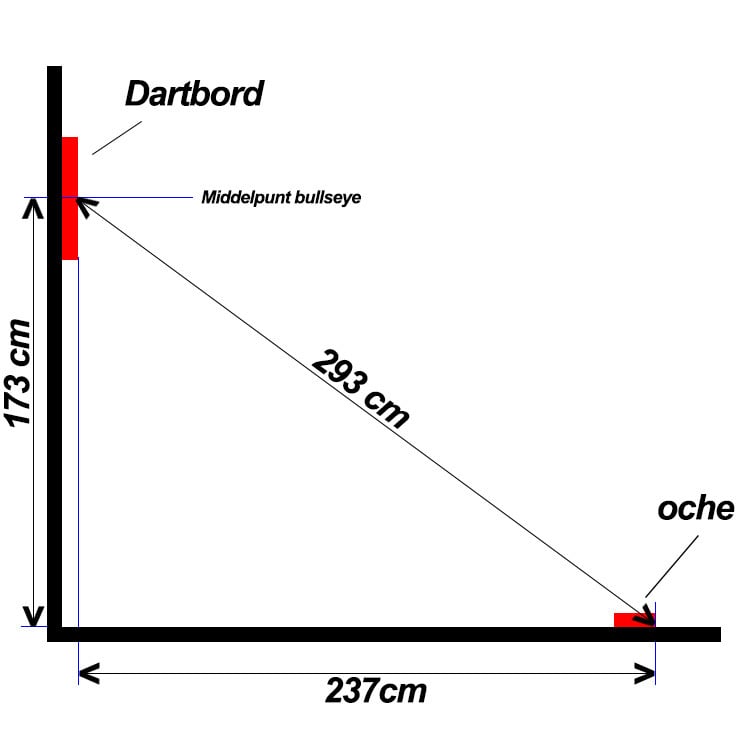 Welk gewicht dartpijlen kan ik het beste beginnen?
De gemiddelde dartpijl weegt 23 gram. Pijlen beneden de 23 gram worden over het algemeen als lichte pijlen beschouwd, pijlen vanaf 24 gram worden als zwaar beschouwd. Voor een beginnende dartspeler is het verstandig om met 24 gram of zwaarder te beginnen. De pijlen hebben dan de neiging om minder te zwabberen als bij lichte pijlen. Wanneer je een meer ervaren dartspeler wordt en je techniek beter is, kun je lichtere pijlen gaan proberen.
Welk gewicht dartpijlen is het meest gunstig om te gooien?
Hoewel er geen bewijs voor is kun je zwaardere pijlen beter groeperen dan lichtere pijlen. Dit wil zeggen dat je de pijlen makkelijker bij elkaar kunt gooien. Dit is handig, zeker bij het gooien van scores als 140 en 180.
Er wordt ook wel gezegd dat je met lichtere pijlen makkelijker dubbels gooit, maar uiteindelijk blijft het ideale gewicht van de dartpijl persoonsafhankelijk. De éne persoon vindt zware pijlen fijn, de andere lichte pijlen. Het heeft ook te maken met de manier waarop je gooit.
Welke lengte moeten mijn shafts hebben?
Veelgehoord in de dartswereld is dat langere shafts beter passen bij lichte dartpijlen (tot 23 gram) en korte shafts bij zware dartpijlen.
Daarnaast is de manier van gooien ook belangrijk. Als je met een boogje gooit kun je beter kortere shafts gebruiken, als je wat strakker gooit zijn langere shafts beter.
Uiteindelijk kun je er zelf ook achter komen wat de ideale lengte is van jouw shafts. Als je veel afzwaaiers hebt heeft dit vermoedelijk te maken met de lengte van de shafts. Je moet dan dus kortere of langere shafts gaan gebruiken.
Hoe lang blijven mijn pijlen goed?
Dit hangt af van de gebruikersintensiteit van je pijlen en de kwaliteit van het dartbord waar je vaak op gooit. Als je veel gooit op een dartbord met slechte kwaliteit zijn je punten eerder versleten. Daarnaast heb je dan vaak meer last van bouncers waardoor je pijlen en punten eerder versleten zijn.
Als je de punten van je pijlen regelmatig vervangt kun je lang met je dartpijlen doen. Toch vervangen dartspelers vrij regelmatig hun pijlen, omdat op nieuwe pijlen meer grip zit en het altijd goed is om nieuw materiaal te testen.
Hoe lang blijft mijn dartbord goed?
Dit is natuurlijk afhankelijk van de kwaliteit van het dartbord, de hoeveelheid je het gebruikt en de plek waar het dartbord hangt. Als een dartbord buiten hangt is hij eerder versleten dan wanneer hij binnen hangt. 
Een dartbord is versleten als de darts niet goed meer in het bord blijven zitten. Je krijgt dan meer last van bouncers. Je kunt ook zien dat het dartbord versleten is. Er zitten dan veel gaten of bulten in het dartbord.
Waar is een dartbord van gemaakt?
Vaak wordt gedacht dat dartborden gemaakt zijn van paardenhaar. Dit klopt niet. Dartborden zijn gemaakt van Sisal. Sisal is een tropische vezel en wordt naast dartborden ook gebruikt voor borstels, vloerbedekking en touw. Sisal wordt voornamelijk geoogst in Zuid-Amerika, Afrika en Azië.